A patio is an essential part of your outdoor space. This is where you often have the best times: delicious family dinners, fun celebrations, and guest parties. This is where often the best pictures are taken, and the best memories are created. In winter we often take a break from our outdoor spaces and don't spend as much time outside on our patio, but when spring comes, we are back to grilling steak, hosting barbeques, and enjoying the sunshine in our outdoor space. Spring is around the corner, just a few more days away, and it's time to start thinking about decorating and improving your outdoor space. In today's article, I'll share a few ideas that you can use for your patio.
Plants And Flowers
You can never go wrong with plants. Plants are always a great way to add color to your patio and create a cozy homey feel. You can go with green plants or brighter flowers; this can be entirely up to your taste. You can also add a few herbs in pots to your patio. In spring they might be available at your local grocery shop and they are easy to maintain. A few of my personal favorites are mint, rosemary, parsley, basil. Mint is great for tea or mint lemonade. And rosemary, parsley, and basil always go well with pasta and chicken. There's nothing better than enjoying a cup of refreshing tea and the beautiful aroma of the blossoming flowers and spices on your porch.
Cozy Patio Furniture
Patio furniture is another great way to decorate your patio space and make your home even more comfortable. By adding a couple of modern and stylish chairs, a couch, and a table you can easily create a beautiful outdoor look. Your patio furniture set will be very useful every time you decide to enjoy a cup of tea and a book on your patio when celebrating a special occasion or enjoying a homemade meal with your family and guests.
We recommend lighter colors of fabric to bring more light to your garden. They will also stay cooler on a hot, sunny day as the weather starts to get warmer in the coming months. Not only that, lighter and brighter patio furniture colors will complement the colors of the flowers and plants in your garden and will brighten your patio on a rainy day. Our favorites include turquoise, beige, and orange patio furniture colors. However, grey shades will also work as stains or spots won't be as visible on them. Besides, grey color shades have a calm and classy look and work well in small and large outdoor spaces.
If you don't have much space on your patio, consider getting a small table and a couple of foldable wooden chairs. They will still add a homey feel to your patio and won't take as much space.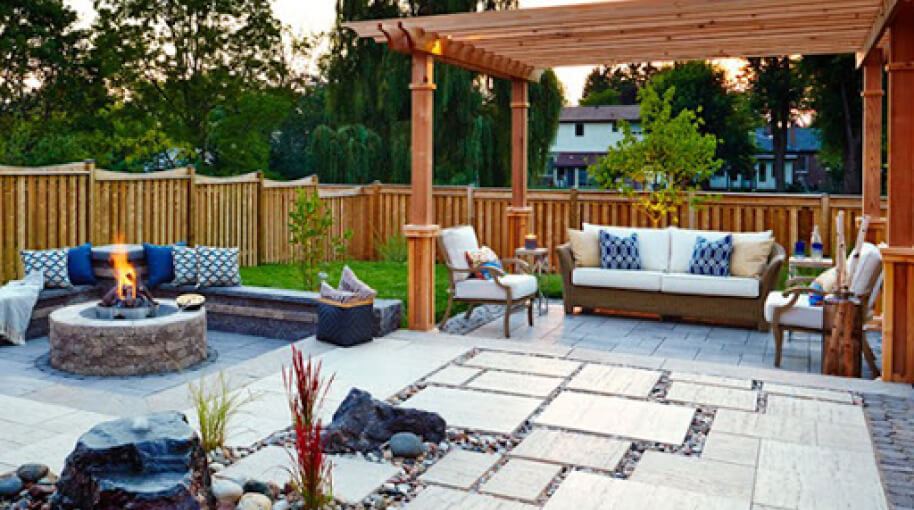 Textiles
Adding a few decorative pillows and a little blanket or a soft throw will add a special cozy touch to your patio furniture. Consider getting either matching or contrasting pillows that will add extra color and charm to your furniture and overall outdoor space. In case you need some inspiration for outdoor patio spaces, lighter-colored pillows with leaves or flowers will always work very well. You can also consider getting pillows that will complement your plants and flowers.
Accessories
Once you pick your furniture, you can also add a few more decorative matching pieces to your patio. For example, you can add a tablecloth and a matching decorative bowl or a vase to your table that can become a beautiful spring centerpiece.
If you have enough space, you can also consider adding a few shelves. Shelves will always be useful for your plants, flowers, and little pots with herbs. You can also decorate your shelves with little figures, for example, birds, hedgehogs, rabbits, or pet figures. Art or interesting inspirational or funny quotes printed on canvas can also be a great decor idea for your shelves.
Lights and Candles
Hanging lights on the walls, trees, or green bushes will add extra charm and a little bit of a romantic touch to your patio. Lights are always a great way to add a warm and cozy feel to your outdoor space. Candles and lanterns are also a wonderful idea. You can place them in the center of the table, creating a centerpiece, or simply add a few here and there to the table or floor creating a very special feel. Consider getting colorful aroma candles that will match your flowers, furniture, or other decor and a few tea candles that will simply add extra charm.
If you have enough space, adding a stone firepit can also add a warm and cozy feel to your patio. Just imagine enjoying hot cocoa, while roasting marshmallows on a starry chilly night. Wouldn't this feel magical? Firepits are always a great place to congregate for discussion and romantic evenings.
Areas for Children and Pets to Play 
You can make your patio comfortable for the whole family. Consider adding a little table with a few chairs for your kids, where they can play, draw and enjoy the sunshine. Maybe they will have a few additional decoration ideas? If you have a puppy, adding a little doghouse or pet bed can also be a good idea. Your little pooch will truly feel like a part of the family even when hanging out on the patio. Feel free to be as creative as you like. The sky is your limit.